::
SpanishUnlimited
>
Granada
Granada, Spain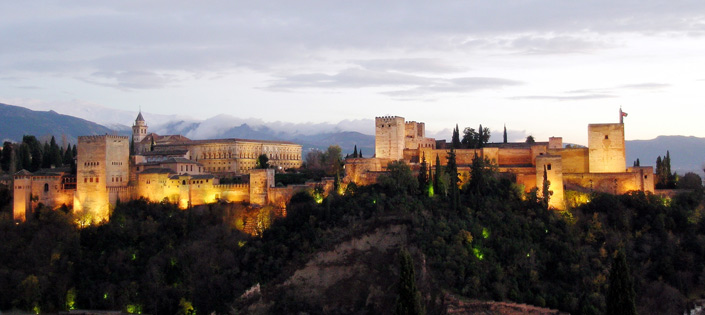 Granada is the capital of the province with the same name, situated in the eastern part of the region of Andalusia. Geographical and scenic diversity charactizes the land. There is the coastal area with its warm climate; the extensive, fertile Genil plain; and the mountainous regions with a colder climate, where we find the 3,481 meter Mulhacén, the biggest peak on the peninsula of Spain. The city of Granada is located at the foot of the sierra Nevada mountains at the confluences of the Darro and Genil rivers. Its unique history has bestowed it with an artistic grandeur embracing Moorish palaces and Christian Renaissance treasures. As the last Moorish capital on the Iberian peninsula, it also holds great symbolic value.
The city of Granada has been shaped by the hills, where the old districts in the Albaicín and the Alhambra were founded, brimming with steep, narrow streets, beautiful nooks and crannies, and marvelous landscapes. The new part of the city is situated on the plain, crisscrossed by the large arteries of Gran Vía de Colón and Calle de los Reyes Católicos, and where the busy streets around the Cathedral are found.
The Moors crossed the strait of Gibraltar in 711 and settled in what was then a small Visigoth town perched atop the Alhambra hill. Here they settled, erected walls and laid the foundation for the prosperous civilization that would follow. It was in the 9th century when Granada rose to importance after the fall of the Caliphate of Córdoba. Its splendor was reached in 1238, when Mohammed ben Nasar founded the Nasrid dynasty, and the kingdom of Granada stretched from Gibraltar to Murcia. This dynasty bore twenty kings until King Boabdil was forced to surrender Granada to the Catholic monarchs, King Ferdinand and Queen Isabella, in 1492. During three centuries, a magnificent and rich Islamic culture flourished, leaving Granada with architectural marvels of the caliber of the Alhambra, declared a World Heritage Site, along with the ín.