::
SpanishUnlimited
>
Salamanca
Salamanca, Spain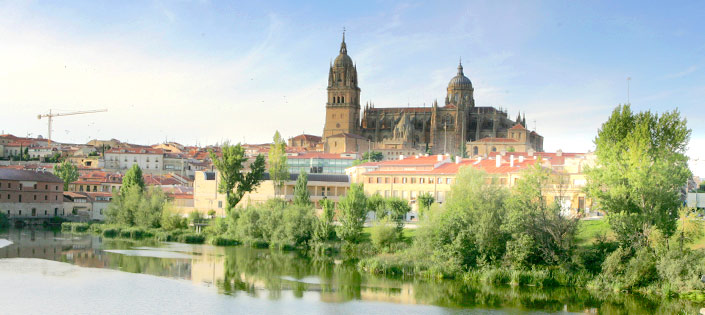 The province of Salamanca (population 363.000), situated in the South-west corner of Castile & León on the borders with extremadura and Portugal, covers an area of 12,336 sq. km (4,763 sq. m.). Lying on Spain's Northern Plateau (meseta), it forms part of the Duero river system where Paleozonic soils, poorly suited to cultivation, have resulted in a landscape of pastures, dotted with trees and bushy undergrowth. Winters tend to be relatively long, with minimum temperatures averaging around 6ºC (42,8ºF), while the shortish summers are marked by average highs that never climb above 20ºC - 22ºC (68ºF-71ºF). Nights can be cool, something which should be borne in mind by the traveller.
Salamanca could never be said to be an exceedingly wet province (annual rainfall: 300-600 mm/11-23 inches), except in the Southern mountain ranges which receive over 1,000 mm (39 inches) of rain. This difference favours a great diversity of plant life, with holm oaks on the eroded flat lands, bushes and thicket in the foothills, and sizeable swathes of forest up in the mountains (sierra).
Many a writer has evoked the stands of holm- and cork-oak, the thorn enclosures, the slate walls and stone markers, a phenomenon that still endures to this day in the Salamancan countryside (Campo Salmantino). In brief, this is a terrain of pastures, of extensive grazing, where ranching coexists in perfect harmony with the local plants and vegetation.
Yet not all is farming and rearing livestock. Industry assumes a high profile in the provincial capital of Salamanca and in smaller cities such as Béjar, while the service sector also plays an importatn role, particularly in education and teaching. The University of Salamanca is a century-old seat of learning of major importance which even today can claim to be one of Europe's most renowned universities.
The origins of this UNESCO World Heritage City hark back to Celtic times. Polybius, writing in the 2nd century B.C., speaks of the city, referring to it as Helmantik. The bridge is a witness to Roman domination, and was constructed in the time of Trajan as an essential part of the Silver Route as it forded the River Tormes. At this point in history and again under subsequent Moorish occupation, Salamanca vanishes as an urban entity. With the advent of Alfonso VI in 1085, these lands were repopulated with Franks, Galicians, mountain peoples (Serranos), Navarrese and the like. Two centuries later, the creation of the so-called Estudio Salmantino (literally Salamanca Study), subsequently converted into a university by Alfonso X, was to prove the decisive event in Salamanca's emergence as a universally acknowledged city of culture.